Pasture management
Good pasture management can contribute to farm profitability through optimising the use of grass as a nutritional resource, and by contributing to the effective control of worms. Classifying the fields on your farm according to parasite risk by reviewing grazing history is an important step. Identify 'safe' or low-burden pastures, such as new leys or silage aftermath and prioritise these for weaned lambs to reduce the worm challenge they face. Healthy immune adult ewes can graze contaminated ground without ill effect.
Although Nematodirus battus control requires a different approach to the other worm species, planning ahead can also significantly reduce the risk. Since this worm is passed from one year's lamb crop to the next, rotating fields so that young lambs do not graze the same ground in consecutive years can help prevent outbreaks of disease.
Refugia: Maintaining anthelmintic sensitive worm populations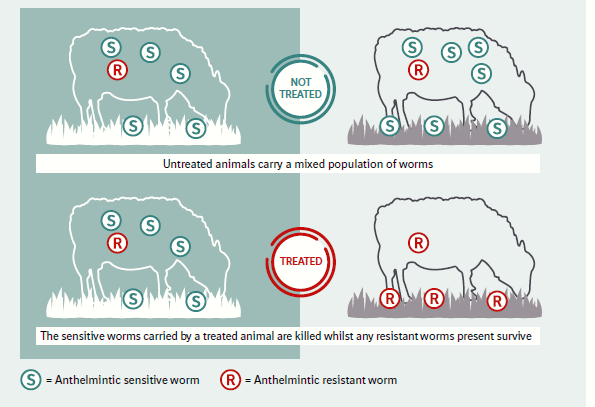 Grazing practices and resistance management are closely linked. To slow the emergence of resistance, it is important to preserve the genetic diversity of the worms present on a farm and ensure the prevalence of resistance genes remains low. Refugia are the worms that are not exposed to an anthelmintic when a treatment takes place. This sub-population consists of both the free-living worm stages present on pasture at the time of any treatment, and also those carried by any animals in the group that are left untreated by an anthelmintic. Maintaining refugia will dilute any resistant worms that have survived treatment, ensuring that their genes do not dominate future worm generations.
Dose-and-move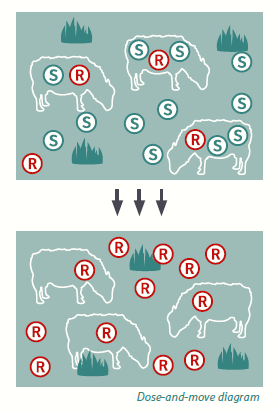 Dose-and-move strategies select heavily for resistance as lambs moved to clean pasture immediately after treatment may carry worm populations that consist only of resistant worms with them (see Dose-and-move diagram). Delaying the move until 4-5 days after treatment allows lambs to become lightly reinfected by susceptible worms ahead of the shift to clean ground. Where a delay after treatment is not possible, leaving 10% of the fittest lambs untreated will help to ensure a mixed population of worms are carried by the group. The use of persistent products containing moxidectin should be avoided before moving animals to low challenge pasture as this will increase selection for resistance.

Fields used for finishing lambs should have a target minimum sward height of 5-6 cm. Grazing pastures lower than this will expose lambs to higher levels of worm larvae. Integration of bioactive forages such as chicory and sanfoin may also help reduce the risk of worm disease.
Quarantine
The aim of quarantine is to minimise the disease risks associated with bringing animals on to the farm. This includes the potential introduction of new or anthelmintic resistant parasites. Quarantine measures should be applied to both purchased sheep and those returning from out farms or common land where the resistance status is unknown or different from that of the home farm.

Develop a farm-specific quarantine protocol with your vet or animal health advisor. The objective of treatment is to remove all worms carried by incoming animals. The protocol should include two products from Groups 4-AD, 5-SI, and 2-ML. Consult SCOPS guidance for specific risk-based protocols.3

Following treatment, keep sheep off pasture for 24-48 hours to allow eggs produced by worms before treatment to pass out in the faeces. After this time, turn them on to contaminated pasture. This will allow them to become reinfected with worms that
are representative of the farms own population, minimising the effect of incoming sheep on resistance.

Perform FECs on 10 sheep, 14 days after treatment to assess the effectiveness of the quarantine protocol. If FECs are more than zero, discuss with your vet or animal health advisor.